Once more unto the breach, my friends, once more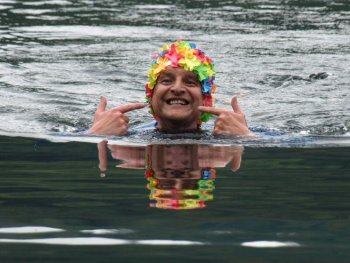 Here at VOOT we love to do our bit... and are becoming somewhat hardened campaigners for charities we believe in...
As a part of that approach we are also always keen to help our friends in their own efforts - and this year has been no exception with our completed Brentford to Bluebell Wood bike ride just a few short months ago...
Last year we took part in the 'Grasmere Channel Swim' organised by our lovely friend Angela Clark of Banerigg Guest House in the Lake District... to raise money for the Cystic Fibrosis Trust...
Whatever I say to you about Cystic Fibrosis, and how challenging it is for the incredibly brave Lucy, I cannot say it any better than her Aunt Angela - the instigator and organiser of this event. Angela worked tirelessly last year to raise over £18,000 for Cystic Fibrosis - inspired entirely by her niece - and this year wants to raise a lot more than that. You - the readers of this page - helped me SMASH my fundraising target of £750 by donating £1300.00... I would love you to help me do that again this year - but really - whatever you can give is fantastic. Don't ever think your contribution is too small - I know more than most this year just how tough our economic climate is right now - and I also know how cliched it can sound - but really - EVERY LITTLE HELPS... Even a £1 text donation will be a massive help - and just think - its better than giving it to Simon Cowell! Isn't it??
Over to Angela... Some of you may be asking why are we doing this? The answer is quite simply that we want to raise much needed funds for the Cystic Fibrosis Trust. Twelve years ago, our then two year old niece Lucy, was diagnosed with CF. This is one of the UK's most common life threatening inherited diseases, which affects over 9,000 people in the UK. Cystic Fibrosis affects the internal organs, especially the lungs and the digestive system, by clogging them with thick sticky mucus that makes it hard to breathe and digest food.
Our 14 year old neice is a plucky little girl and copes without complaint with her daily cocktail of drugs (over 40 tablets), nebulisers and physiotherapy, nightly enteral feeds plus intravenous antibiotics every three months. We believe, however, that the current research into gene therapy replacement will be life changing. This is why it is vital to continue raising money to fund this research that will make such a difference to Lucy's life and all those with CF.
We are, therefore hugely grateful for the support of family, friends and the local community for this fund raising event. We couldn't do it without you.
Donating through JustGiving is simple, fast and totally secure. Your details are safe with JustGiving – they'll never sell them on or send unwanted emails. Once you donate, they'll send your money directly to the charity and make sure Gift Aid is reclaimed on every eligible donation by a UK taxpayer. So it's the most efficient way to donate - I raise more, whilst saving time and cutting costs for the charity.
So please dig deep and donate now. http://www.justgiving.com/GrasmereSwim2012NigelShort